MTD Celebrates Juneteenth with a Mobile Exhibit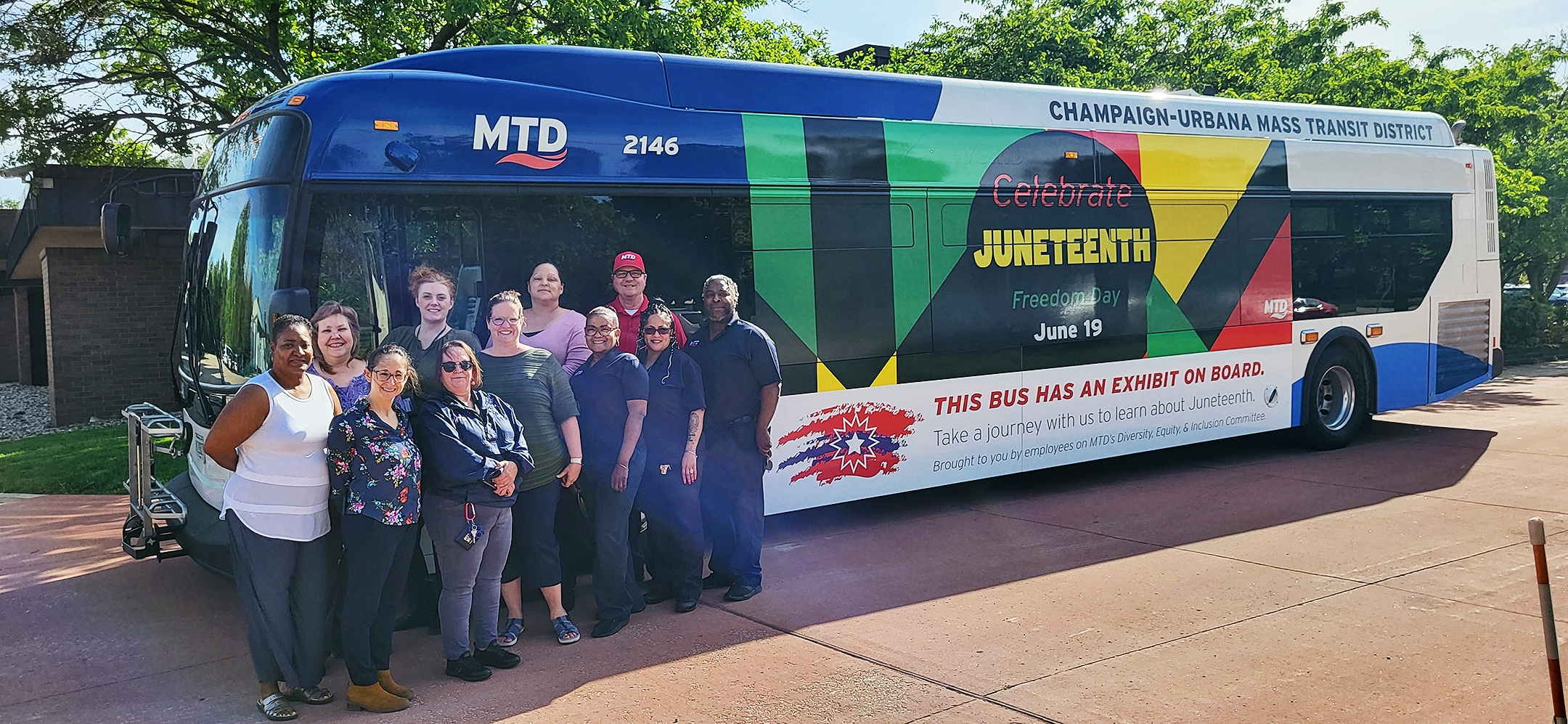 Next month the nation will celebrate Juneteenth, the annual commemoration of the emancipation of enslaved African Americans. While this holiday has been observed for more than 150 years, many people are discovering Juneteenth for the first time and the Champaign-Urbana Mass Transit District (MTD) wants to help. As we approach the historic holiday, MTD invites the community to learn more and celebrate with us on board our mobile Juneteenth exhibit.
MTD's Juneteenth Bus hits the streets today and offers the community a chance to read about the origins and importance of the holiday. Large panels on the exterior of the bus invite the public to get on board to view the mobile exhibit, which consists of nearly 40 unique interior displays ranging from historical facts and photographs, to quotes from famous figures, as well as book excerpts and recommendations for continued learning. Several MTD employees submitted quotes about Juneteenth and the Black experience, which are also displayed. In addition, MTD commissioned poems for the holiday from the current Urbana Poet Laureates, Ja Nelle Davenport-Pleasure and Danyla Nash. Both poems are prominently displayed in a light box behind the driver and will soon be installed on the platform of Illinois Terminal.
MTD engaged our Diversity, Equity, and Inclusion Committee, comprised of 16 employees from various departments, backgrounds, and positions, to decide how the District would celebrate and observe Juneteenth. The Committee selected education as one of the most important themes for MTD and worked collaboratively to create the mobile exhibit.
The Juneteenth Bus Mobile Exhibit is a powerful and accessible educational resource and will be in service on randomly assigned routes through the end of July 2023. MTD will also make the bus exhibit available at community events throughout the spring and summer. Announcements on planned appearances will be posted to the District's social media pages (@rideMTD) as events are confirmed.
Pictured below: A variety of interior displays fill MTD's Juneteenth Bus, turning the vehicle into a mobile history exhibit for passengers to take their own journey of reflection, growth, and understanding.