Precautions for Coronavirus (COVID-19)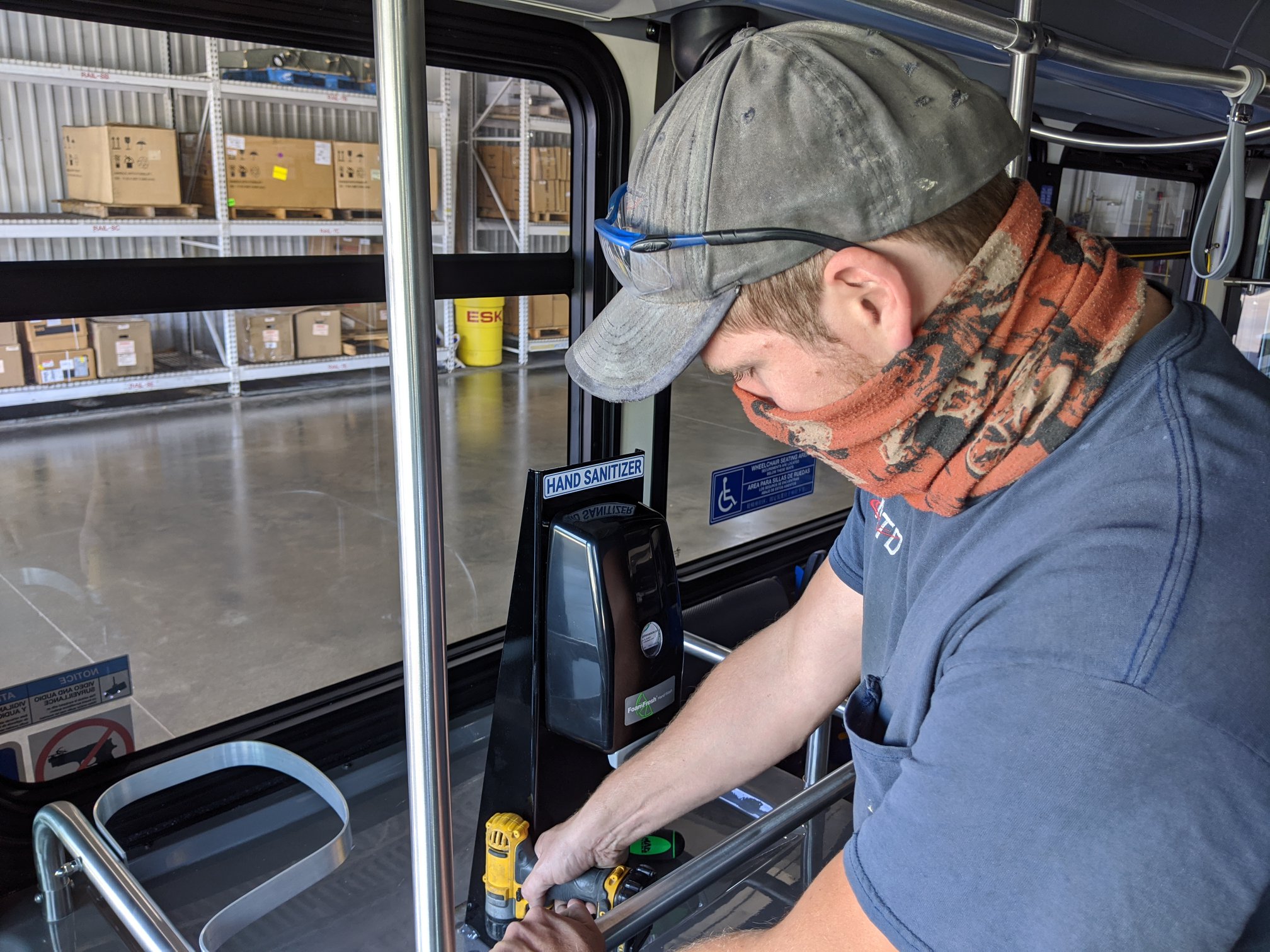 UPDATED 4/23/2021 - As COVID-19 cases continue to be confirmed across the United States, the Champaign-Urbana Mass Transit District (MTD) is maintaining several mitigations to continue to protect all passengers and employees. MTD understands and takes seriously concerns about safety in public spaces, and as a result, we have made permanent several additional measures and protocols. MTD continues to follow State and Federal guidelines, and will continue to evolve alongside recommendations from the CDC and the Champaign-Urbana Public Health District (CUPHD). We have confirmed with representatives from CUPHD, local law enforcement agencies, and the TSA and CDC that the measures MTD has taken and is continuing to take meet the requirements of both the federal and local mandates (CUPHD Ordinance 2020-08-05).
A more robust sanitization process for our fleet began in early March, 2020 and remains in place. Our fleet of vehicles is cleaned, disinfected, and fully sanitized every day using deep cleaning electrostatic sprayers. The sprayers use medical-grade Husky 814 Q/T Tuberculocidal disinfectant solution (EPA-Registered #1839-83 - Approved for Use Against COVID-19) to eliminate everything, from tuberculosis to coronavirus, on treated surfaces. These sprayers emit the disinfectant solution with a static electric charge, which allows it to adhere to everything, including cracks and crevices, throughout the vehicle's interior.
Vans for ADA Paratransit, demand response services (like SafeRides), C-CARTS (rural, county-wide), and the University's Disability Resources & Educational Services (DRES) are also on this rigorous daily sanitation schedule, because these services tend to transport more vulnerable populations, including elderly riders, people with weakened immune systems, and those with underlying health conditions.
MTD's frontline employees are provided with individual bottles of hand sanitizer to use when soap and water are unavailable, because hand washing is the first line of defense recommended by the CDC.
MTD has purchased and installed hand sanitizer dispensers on each of our buses and all of our vans. Our 40-foot buses have one dispenser on each vehicle, and our 60-foot articulated buses have two dispensers. Our 30-foot buses remain out of service due to their lack of rear doors, and the increased difficulty in providing space for passengers to remain socially distanced.  
Both Operators and passengers on board our buses or entering MTD's Illinois Terminal are required to wear a mask/face covering at all times, except while eating or drinking, pursuant to Transportation Security Administration (TSA) Security Directive 1582/84-21-01, "Security Measures – Face Mask Requirements".
MTD is regularly updating and adding to our external and internal signage on our vehicles illustrating current rear-door boarding procedures and the requirement to wear a mask. Unmasked passengers boarding our buses or entering MTD's Illinois Terminal are asked to wear a mask/face covering, and if they do not have one, MTD employees are providing individually bagged masks for customers.
MTD has invested resources in providing masks to our employees and the public, and in educating our passengers through several channels, including onboard the bus and inside our facilities. Supervisory Staff are also providing support and follow up seven days a week, across all shifts.
MTD's Illinois Terminal has increased frequency of disinfecting surfaces using BNC-15, an EPA-registered product tested and proven to eliminate everything, from tuberculosis to coronavirus, on treated surfaces. All surfaces are disinfected a minimum of two times per shift, and high usage areas and surfaces are disinfected a minimum of four times per shift. This includes our first-floor passenger waiting area, which is utilized by passengers taking MTD as well as intercity buses like Burlington Trailways, Danville Mass Transit, as well as the second-floor passenger area for Amtrak.
Illinois Terminal employees are also monitoring guest areas and disinfecting particular locations if someone is seen exhibiting symptoms, like coughing or sneezing. Touch free hand sanitizer dispensers are placed in all guest areas and are readily accessible.
Illinois Terminal also has an electrostatic sprayer to disinfect large areas. These areas, including guest seating, are disinfected nightly using the electrostatic device. Illinois Terminal Staff are in close and regular coordination with our tenants to address concerns and accommodate service changes.
Along with the temporary implementation of rear door boarding, which began in March 2020, MTD's responses have also included:
Suspension of fare collection and pass validation to eliminate direct exchange of cash, transfers, or reviewing passenger cards
Reduced service to account for the University of Illinois' reduced in-person instruction and local school remote-learning models
Larger vehicles employed to allow space for social distancing on board
Additional buses placed around the community for backup to prevent capacity issues
MTD will continue to follow the advice given by public health officials, and we ask our passengers to do the same.
Protecting yourself
Clean your hands often - wash your hands with soap and water for at least 20 seconds especially after you have been in a public place, or after blowing your nose, coughing, or sneezing. If soap and water are not readily available, use a hand sanitizer that contains at least 60% alcohol. Cover all surfaces of your hands and rub them together until they feel dry.
Avoid touching your eyes, nose, and mouth with unwashed hands.
Avoid close contact with people who are sick and remain 6 feet apart from others.
Wear cloth face coverings in public settings.
Protecting others
Stay home if you are sick, except to get medical care.

Call your doctor or nurse hotline to determine if in-person care is needed to avoid overwhelming our local health care facilities.
Cover coughs and sneezes.
Throw used tissues in the trash and wash your hands immediately after.
Wear masks or face coverings in public.

Continue to keep 6 feet between yourself and others. A mask is not a substitute for social distancing.
Clean and disinfect
Clean AND disinfect frequently touched surfaces daily. This includes tables, doorknobs, light switches, countertops, handles, desks, phones, keyboards, toilets, faucets, and sinks.
If surfaces are dirty, clean them: use detergent or soap and water prior to disinfection.
Take steps to help medical personnel
The Centers for Disease Control (CDC) recommends wearing masks or face coverings in public. These masks should not be N-95 respirators, as medical equipment must be reserved for healthcare use only.
If you are sick, an initial phone consultation with your doctor's office may help prevent the spread of illness, and also alleviate congestion in medical facilities. 
Get the vaccine when it is available to you. Getting a COVID-19 vaccine will help protect you without having to be sick.
Preparing your household
Refill prescription medications in case your household falls under quarantine. Call your doctor to see if a three-month prescription can be ordered.
Prepare to stay in your home for two weeks or more, with critical items including food, hygiene items, over-the-counter medication, and pet supplies.
Stay up to date with information and guidelines from public officials.
Resources
Originally published March 11, 2020