Temporary Rear Door Boarding on MTD Buses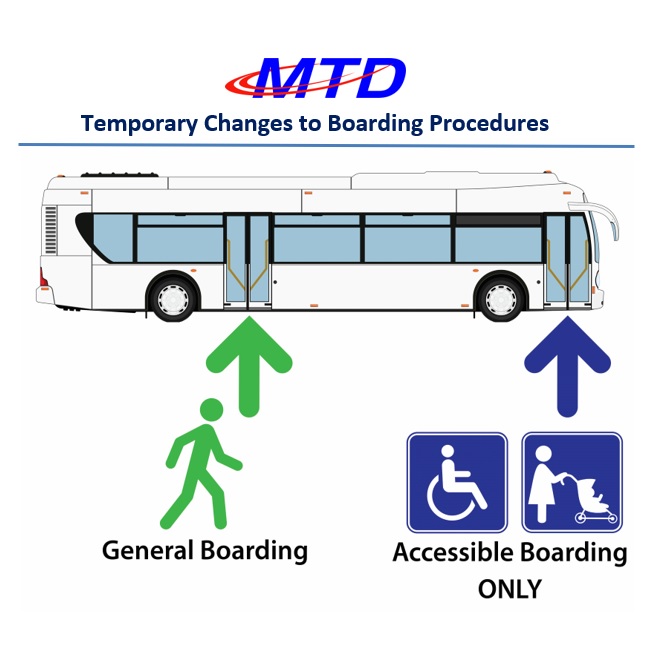 To provide further social distancing protections to our passengers and Operators, the Champaign-Urbana Mass Transit District (MTD) will be temporarily implementing rear door boarding effective Wednesday, March 25.

Passengers will be directed to enter and exit the vehicle via the rear doors until further notice. Those using mobility devices, who have mobility or vision impairments, are boarding with strollers, or have small children should continue using the front door. Operators will lower the bus and deploy the ramp as needed for those front-boarding passengers. 
This decision comes as a follow-up measure to other recent changes made during our COVID-19 response. MTD's responses have included:
Fare-Free rides to eliminate direct contact for fares and transfers

Reduced service to account for the University of Illinois and school cancellations

Larger vehicles employed to allow space for social distancing on board

Additional buses placed for backup to prevent capacity issues

Regular sanitizing of all vehicles and Illinois Terminal with electrostatic sprayers and medical grade disinfectant

Individual hand sanitizer provisions for all Operators
MTD continues to operate as an essential service under Governor Pritzker's Stay at Home order because for some, public transportation is their only access to basic needs. We are proud to serve and will remain vigilant in our COVID-19 response. We ask the community to do their part by limiting travel to essential needs, keeping a safe distance when you do need to go out, and of course, washing hands, coughing into elbows, and staying home when sick.
To stay up to date with MTD's COVID-19 related announcements, please visit mtd.org/covid19 and follow us on social media @rideMTD.