Do you want a steady job in a stable industry? A job where you're paid to train with the best while also offered great benefits, flexibility, and opportunities to grow? The Champaign-Urbana Mass Transit District is hiring, but at MTD it's not just a job – it's a stable career in public service. Join those who proudly serve and help our community thrive alongside a team who works to help YOU thrive too.
All MTD positions require candidates to pass a drug test and undergo a background check. MTD is an Equal Opportunity Employer. Those wishing to apply in person can pick up and return applications at MTD, 1101 E. University Ave., Urbana, IL 61802.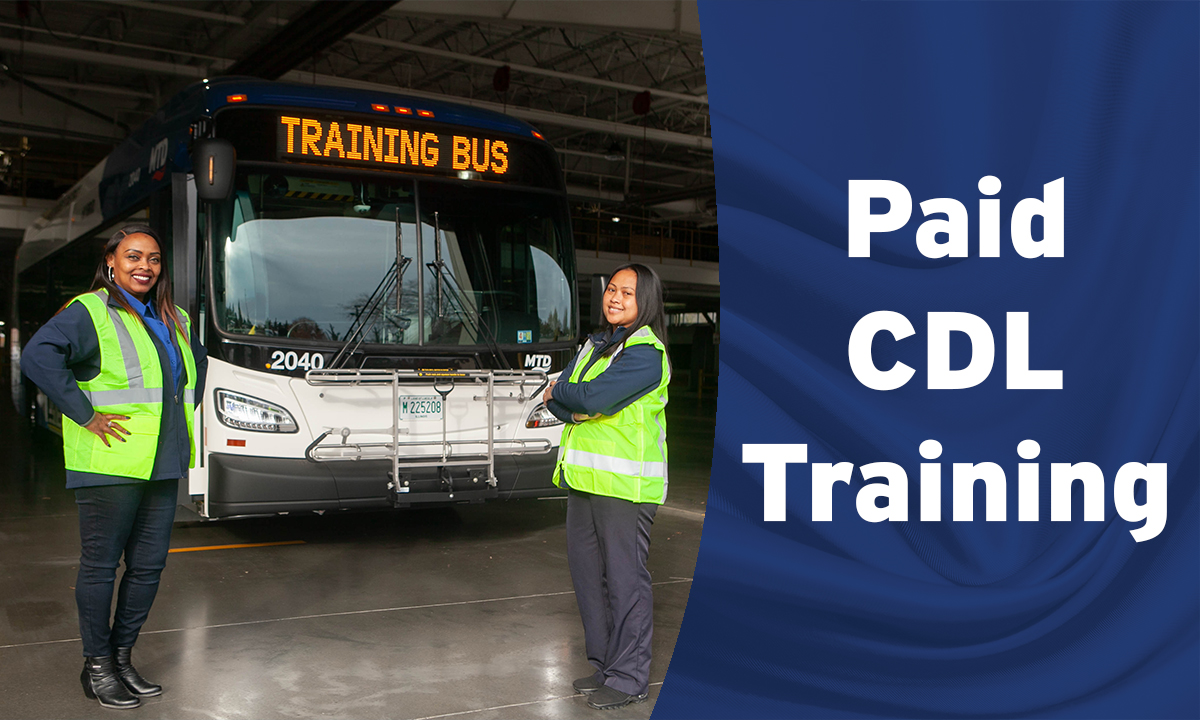 Paid Training
Get paid while you train with the best. You don't need to come to us with a Commercial Driver's License (CDL) under your belt – we will teach you everything you need to know to help you get a CDL – and we will pay you to do it!
Paid Training – Get paid while you train with the best.
Training, with trainee pay starting at $17.00, will run nearly full-time for approximately two months. The training schedule often runs Monday through Friday from 6:00 AM to 2:00 PM or 8:00 AM to 4:00 PM. You will start out learning how to operate a bus in a classroom setting, practice in a pretty cool simulator, and get to watch someone else drive. Then, you drive side-by-side with an instructor in our dedicated training lot before hitting the streets of Champaign-Urbana. After training, you'll be ready – we promise! At the end of your training, you will have your very own CDL (Commercial Driver's License). Add that to your list of superpowers!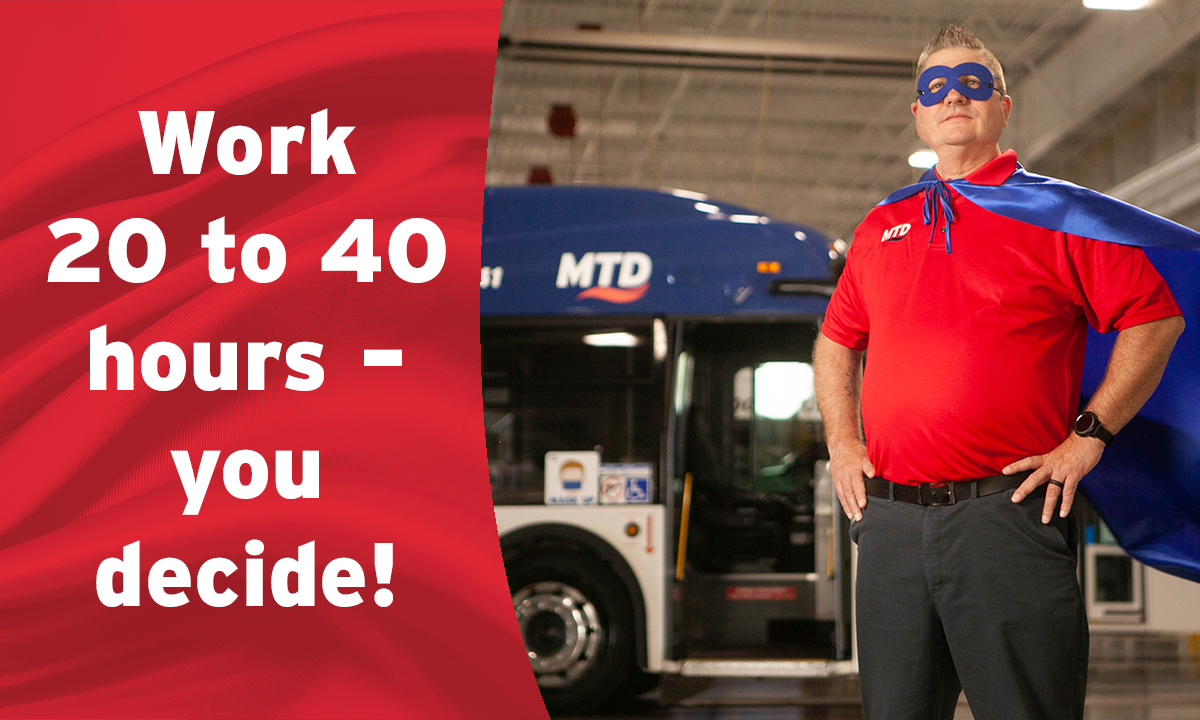 Flexible Schedule
Buses run day and night, seven days a week - which means we have a lot of shifts to fill. As an Operator, you can choose when and how much you work, we only require a minimum of 20 hours per week but there are plenty of hours to go around if you want to work more.
Flexible Schedule – Work 20 to 40 hours – you decide!
When hired, you'll work as a Part-Time Bus Operator for at least one year. We want you to work 20 hours per week or more, but you get to pick how much and when. Buses run nearly 24-7, so we need drivers at all times. Need a second shift so that you can work another job during the day? No problem! Prefer late nights because that is easier for your family? We can do that! Can't ever work on Thursdays? We got you. Three times a year, Bus Operators get to pick from a schedule of routes and run assignments. You can pick ones that work for your schedule and/or fill out your general availability and our schedulers will work to find shifts that meet your needs.
After one year, most Part-Time Operators are eligible to sign up for Full-Time. Lots of employees jump on the chance (it comes with added benefits), but you are welcome to remain Part-Time as long as you like. Our current Part-Time Bus Operators range from just starting out all the way to over 25 years of service. It's a great career path for either part-time or full-time!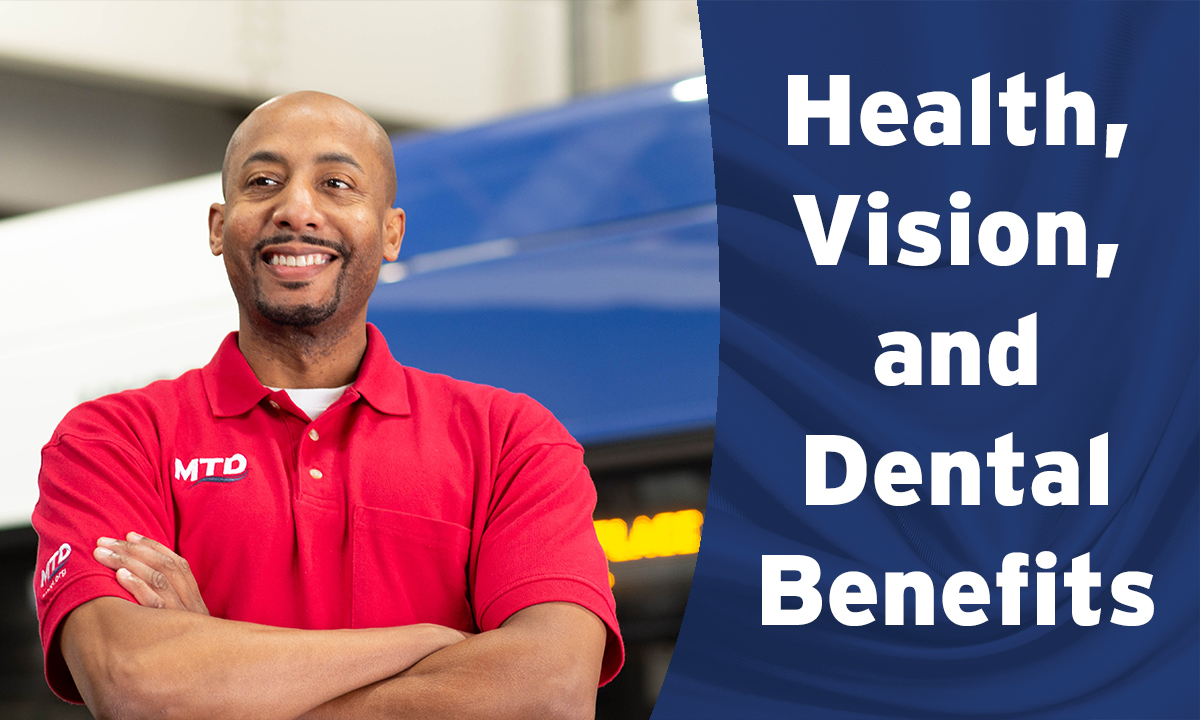 Benefits
As an employee, you will be eligible for health, vision, and dental insurance after 90 days . You won't pay any monthly premiums for your coverage and the District will provide assistance on premiums for your dependents.
Benefits – Health, vision, and dental benefits after 90 days.
Employees at MTD are covered for single employee-only coverage for health, vision, and dental – and they don't pay any monthly premiums for it! Just ensure you work an average of 30 hours per week (and if you want the hours, we've got them!) and you will qualify year after year. Want to add a spouse or children to your coverage? MTD covers 30% of their premiums for part-timers and 60% of their premiums when you move to full-time.
Want a job that gives you sick or personal time off? Earn between 34 – 123 hours of time off each year to use, or even just to cash out when you need it. Work overtime? You can save that time as time-off for a rainy day or choose to get 1.5X your hourly rate on your next paycheck. Need vacation? Full-timers earn between 1 – 6 weeks of vacation each year depending on how long they have worked at MTD.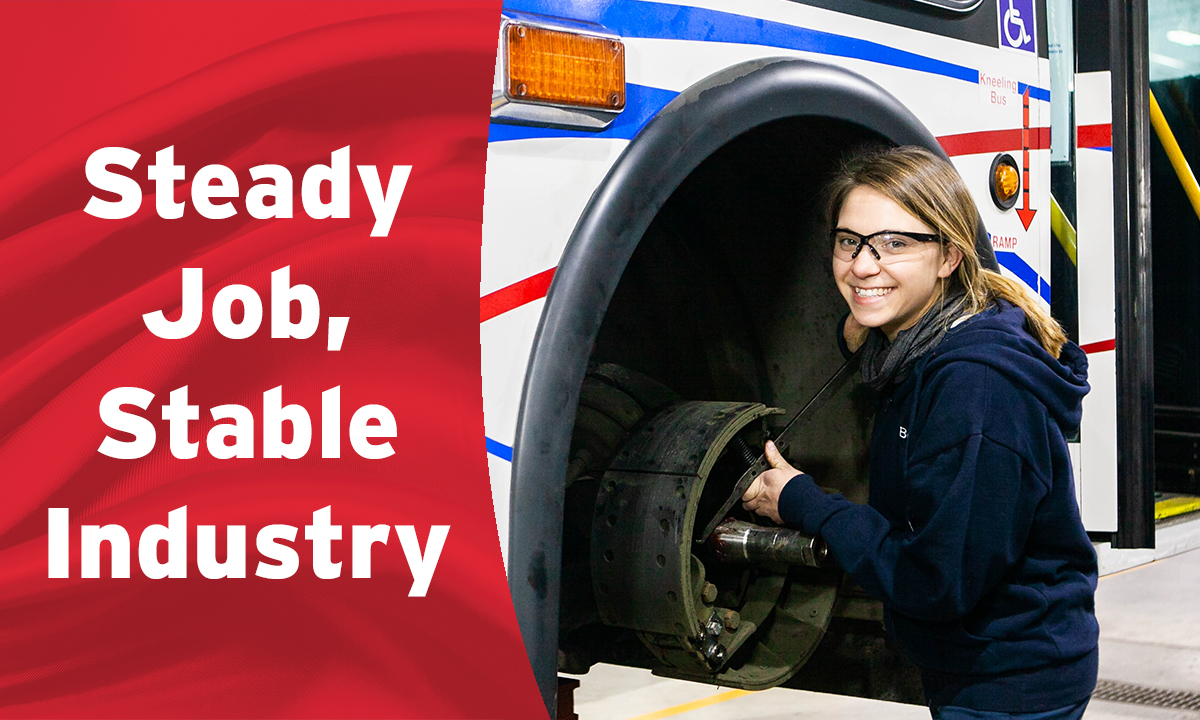 Stability
As an employee at MTD, you will be providing an essential public service for our community. Almost half of our Operators have been with the District for more than a decade. Working in transit is not just a job, but a stable career in public service.
Career – Not just a job, but a stable career in public service.
Your pay over the years demonstrates this is a career choice, and not just a job. After one year, Bus Operators average $15.18/hour. At two years of work, they average $18.82. Our five-year employees? Their hourly pay averages $24.31. It isn't uncommon for a new employee to move to our top rate within seven years of starting!
Our Bus Operators stick with us for the long haul. We have 71 who have worked five years or less, 38 Operators who have worked between six and ten years, 36 have put in 11-15 years, and 48 Bus Operators who have worked over 16 years (with the highest being 47 years of service). We think this level of longevity says something about the job, the company, and our pay and benefits. Come and find out for yourself!
Our continued employment through COVID-19 is a testament to our stability. We have not eliminated or furloughed any employees throughout the pandemic. In fact, employees were provided additional in-house benefit time to stay home if sick or as a result of school closures – and this was benefit time that was in addition to what was offered by the federal government. We have an essential public service to provide to a community that is growing. What's more stable than that?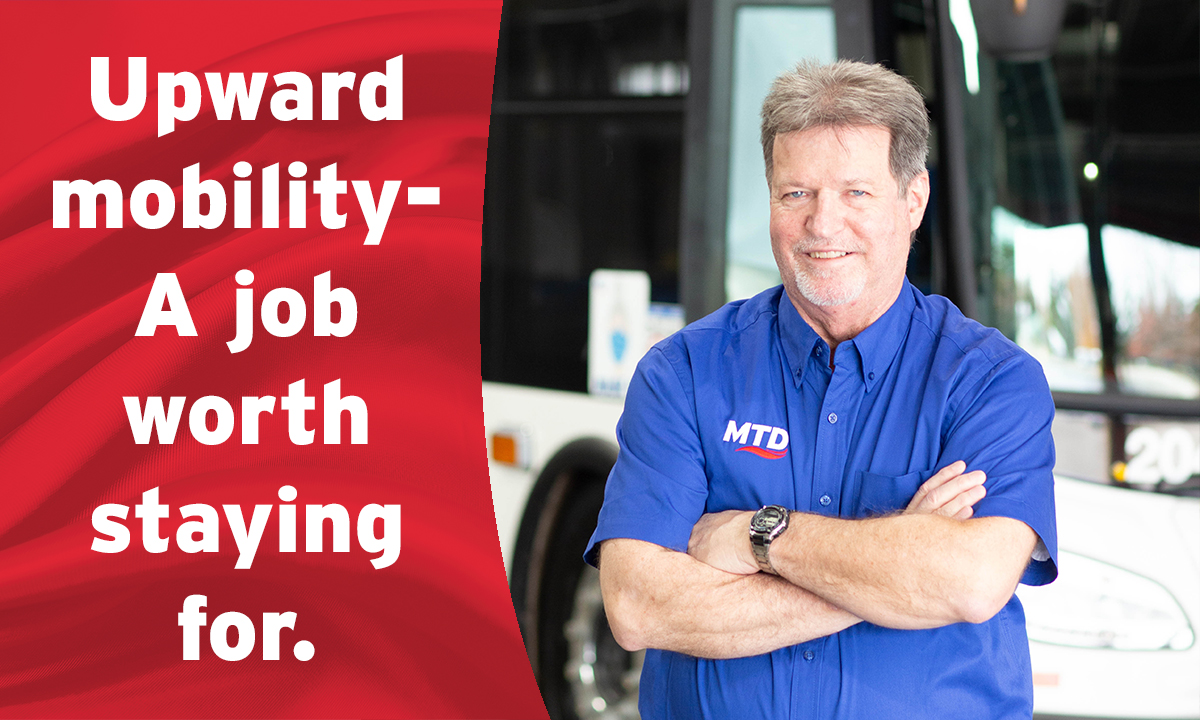 Opportunities for Growth
When you're hired as an Operator you will be given the opportunity to grow beyond the driver's seat. With over 40% of our supervisory roles filled by previous Bus Operators, you have an opportunity to create a career path in transit.
Growth – Upward mobility: A job worth staying for.
MTD offers over 50 leadership opportunities for Operators, each one providing additional responsibility and more pay. From Radio Operators to Class & Road Instructors, from Street Supervisors to Assistant Directors, to name a few, there are many ways to move up within the company after you start as an Operator. In fact, over 40% of our current supervisory staff started out as Bus Operators with us before moving to their current roles!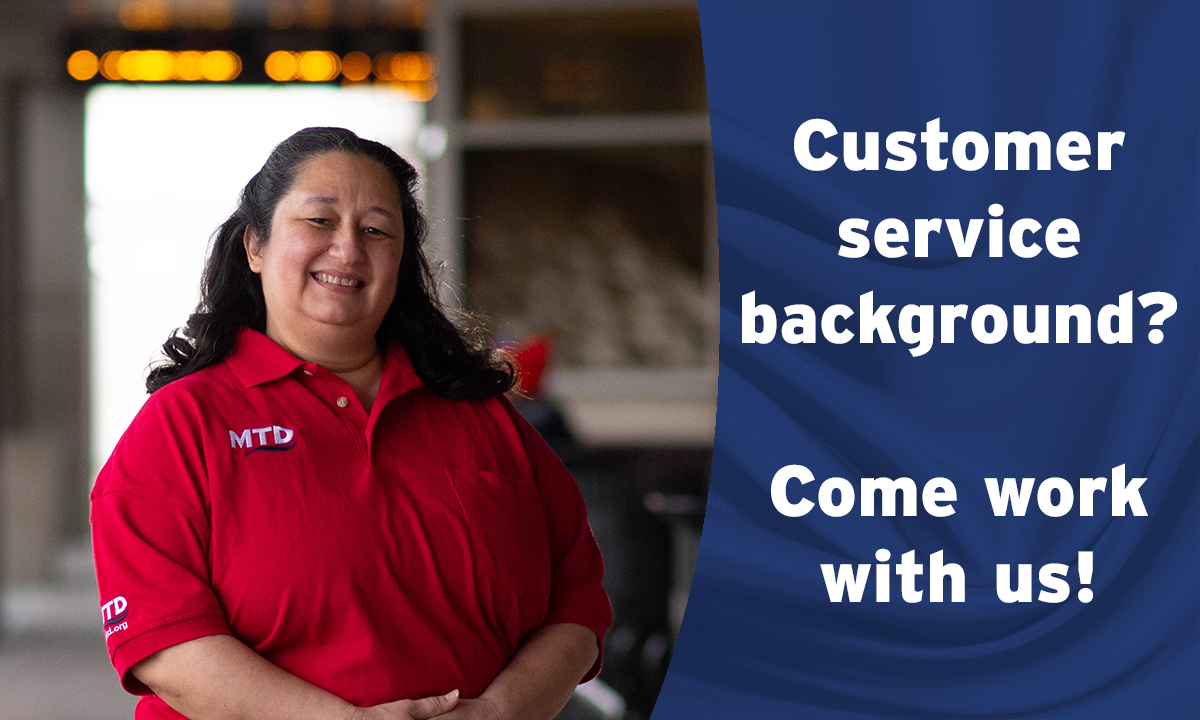 Prior Experience
Some of our most successful Bus Operators come with prior customer service experience, such as retail, restaurant, hospitality, telecommunications, and travel. If you like people and enjoy providing top-notch service to others, this career might be right up your alley.
Prior Experience – Customer service background? Come work with us!
Can you drive a car? Have you been driving for at least five years? Then you can learn to drive a bus! We don't expect you to have prior bus, truck, or large passenger vehicle driving experience. In fact, we sort of like newbies. You'll receive lots of one-on-one support, instruction, and practice to learn everything you'll need to know to serve our community as a Bus Operator.
Some of our most successful Bus Operators come with prior customer service experience, such as retail, restaurant, hospitality, telecommunications, and travel. If you like people and enjoy providing top-notch service to others, this career might be right up your alley.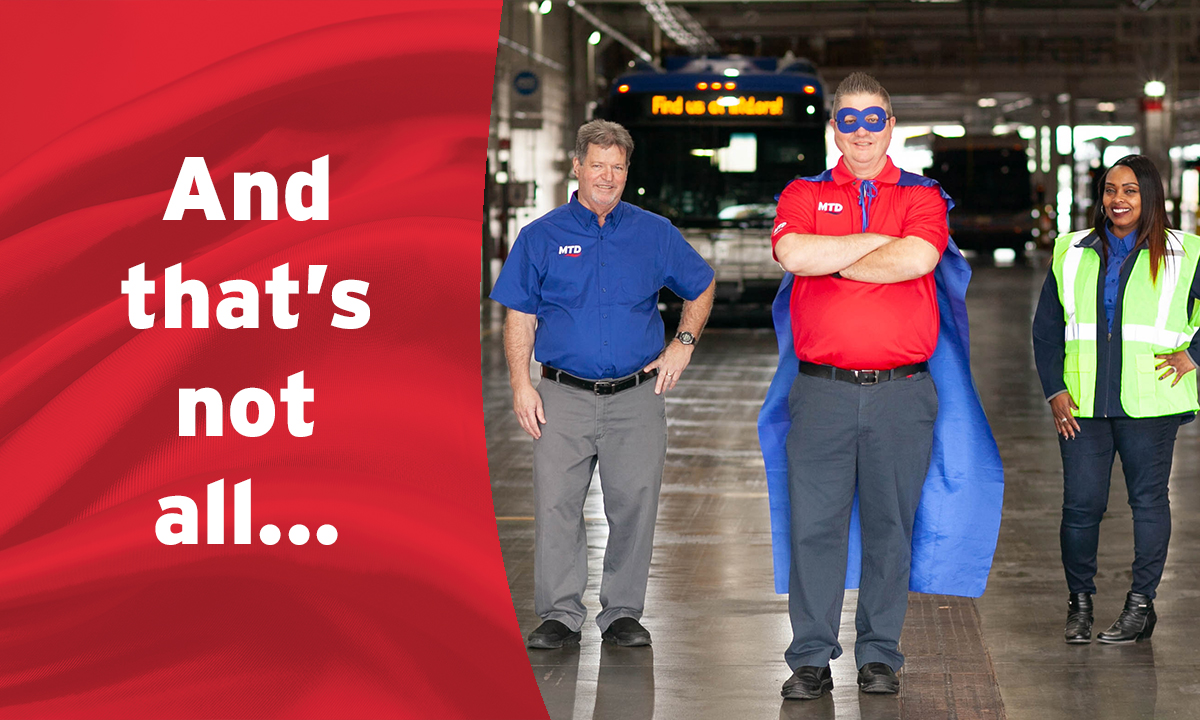 There's More to Consider
Not only will you get paid training, a flexible schedule, benefits, opportunities for growth, and a stable career, but you will also get the best view of C-U from your coveted "corner office". MTD has so much to offer!
There's More to Consider.
You'll get the best view of C-U – it's the coveted corner office.
Never take your work home with you – we make you leave the bus with us.
You won't ever get lost in Champaign-Urbana again – you'll really impress your family and friends with your new street knowledge!
You, your spouse, and your dependents ride the buses for free – perhaps you can replace that car payment?
Join our onsite, private gym for only $5 a month to access 1,600 square feet of new equipment (weight machines, treadmills, ellipticals, bikes, benches and dumbbells) and a personal trainer at your service – no better time than the present to fulfill that annual New Year's resolution.
Current Job Postings
Operator
The District is looking for self-starting, friendly individuals with customer service skills to join the MTD family as Bus Operators. Train for your CDL and learn to safely serve the public as a professional driver. Operators work a minimum of 20 flexible hours per week with the opportunity for additional hours.
Operator (C-CARTS)
Part-Time
C-CARTS is now hiring part-time Operators. If you have outstanding skills dealing with the public, an excellent driving record, and are motivated to serve others, you'll be a perfect fit. Train with our superb Safety & Training team and learn from the best. Apply now! *Mon - Fri* Done by 7PM.