Want to get your message out in our community? Advertising on MTD buses and vans is a great way to reach thousands of people every day! We offer a variety of ad spaces in different shapes and sizes on MTD's fleet, as well as on digital kiosks at major bus shelters and inside our annual Maps & Schedules Book. We also offer advertising space on our paratransit and demand-response vans in addition to our fixed-route buses. Whatever your marketing goals may be, we can help!
Market Overview
The Champaign-Urbana Mass Transit District (MTD) provides fixed-route, on-demand, and ADA Paratransit bus and van service to the cities of Champaign, Urbana, Savoy, and the University of Illinois campus.
MTD's 114 bus fleet serves more than 2000 stops across the District, providing the opportunity for advertisers to speak directly to consumers on a daily basis where no other outdoor advertising exists.
Fast Transit Facts:
71% of riders are employed
79% of riders are aged 25-54, the most economically active years
9% of the local workforce uses public transportation
Available Ad Space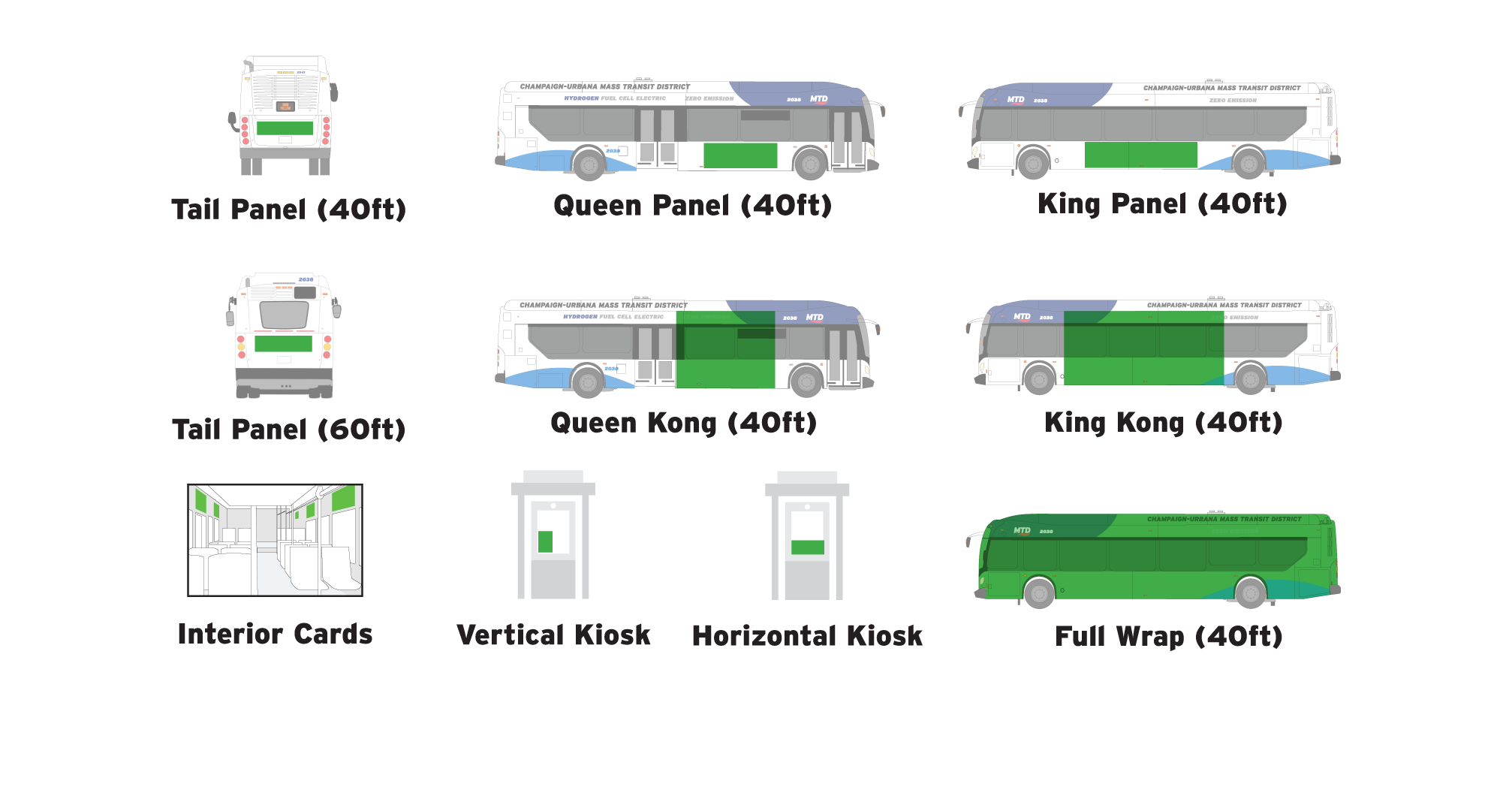 Advertising Rates
Current Promotion: A 50% discount will be applied to Production, Installation, and Removal fees for all contracts. Graphic support not included in this service.
40' Buses
60' Buses
Large Format Rates (40ft buses only)
Additional Opportunities
Digital Space on more than 30 passenger information kiosks all over town
Placement in MTD's annual Maps & Schedules Book
If you are interested in partnering with MTD, please view our sponsorship tab.
Contact
MTD Staff are on hand to take care of all your advertising needs. Please reach out to Marissa Adams​ for information on rates and availability.