MTD Launches All-New Website at mtd.org: New Subscription Necessary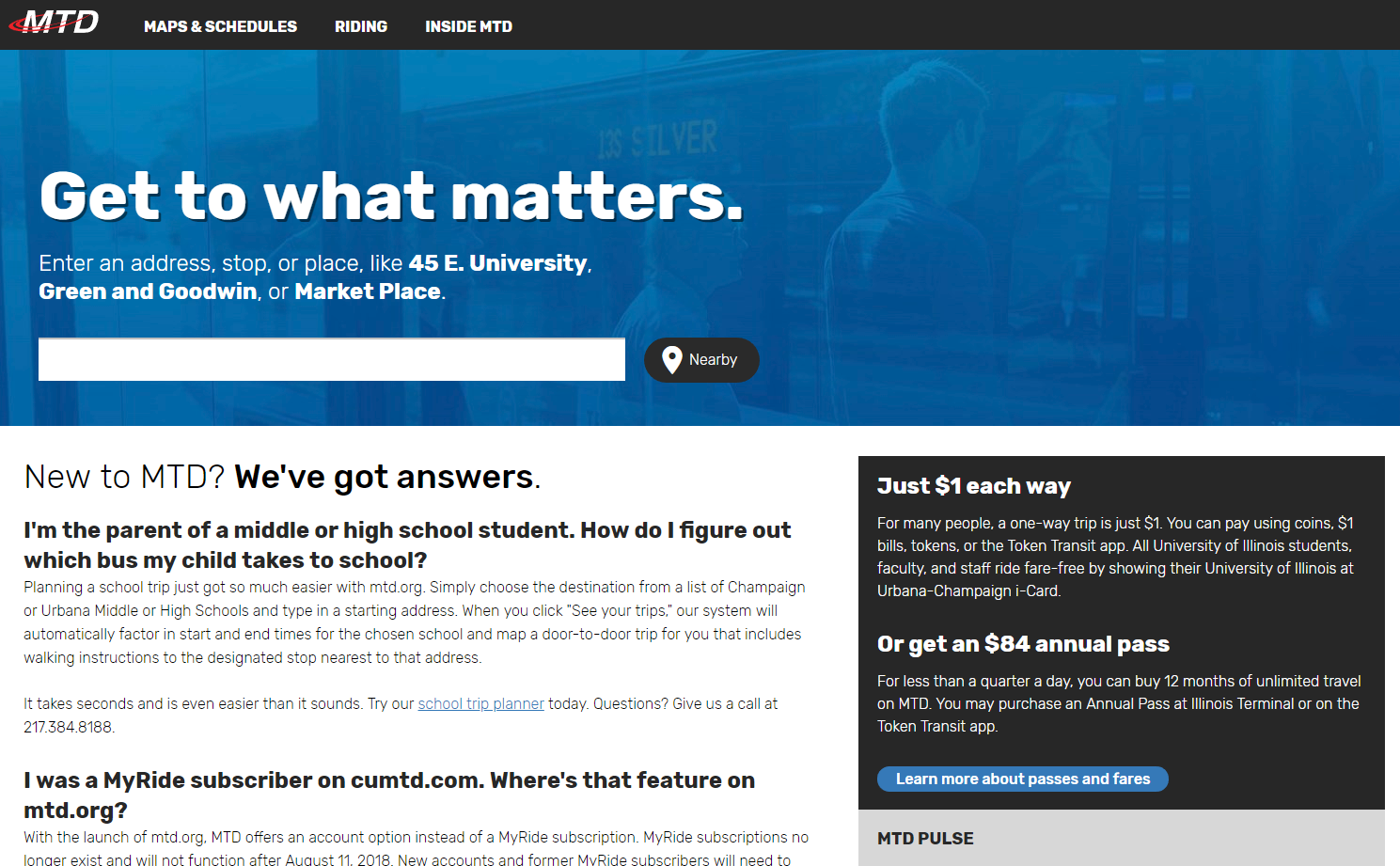 MTD Launches All-New Website at mtd.org
Urbana, IL—The Champaign-Urbana Mass Transit District (MTD) has launched their all-new website on the first day of their 2018-19 service year. With an improved Trip Planner and school trip planning capabilities, mtd.org makes accessing all that our communities have to offer that much easier. MTD encourages District residents to try out the new site and provide feedback. 
With the launch of mtd.org, users will need to create an MTD account on mtd.org in order to subscribe for alerts and favorites. MTD now offers this account option instead of the former MyRide subscription. MyRide subscriptions no longer exist and will not function after August 11, 2018. (Please note: an MTD account is not required to use the site. A subscription is required to subscribe to your favorites & receive alerts.) 
New users and former MyRide subscribers will need to do the following to receive alerts for reroutes, as well as to set favorite bus stops:
Log-in to mtd.org (button is on the top, right corner of home page);
Please note that you must first log-in to a Gmail account (if you do not have a Gmail account, you can create one here for free);
After logging in to your Gmail account & allowing Gmail to log-in to mtd.org, you may set a secondary email (Gmail or other) at which to receive your notifications, or choose to receive them by text message to your mobile device;
Now, please choose your favorite bus stops and the routes for which you would like to receive reroute notifications.
It's as easy as that. If you have any questions about creating your MTD account & receiving reroute alerts via email or text message, or setting favorite bus stops, please call us at 217.384.8188 or reach out on Facebook and Twitter at @rideMTD.