MTD Unveils New Logo to Celebrate 50 Years of Service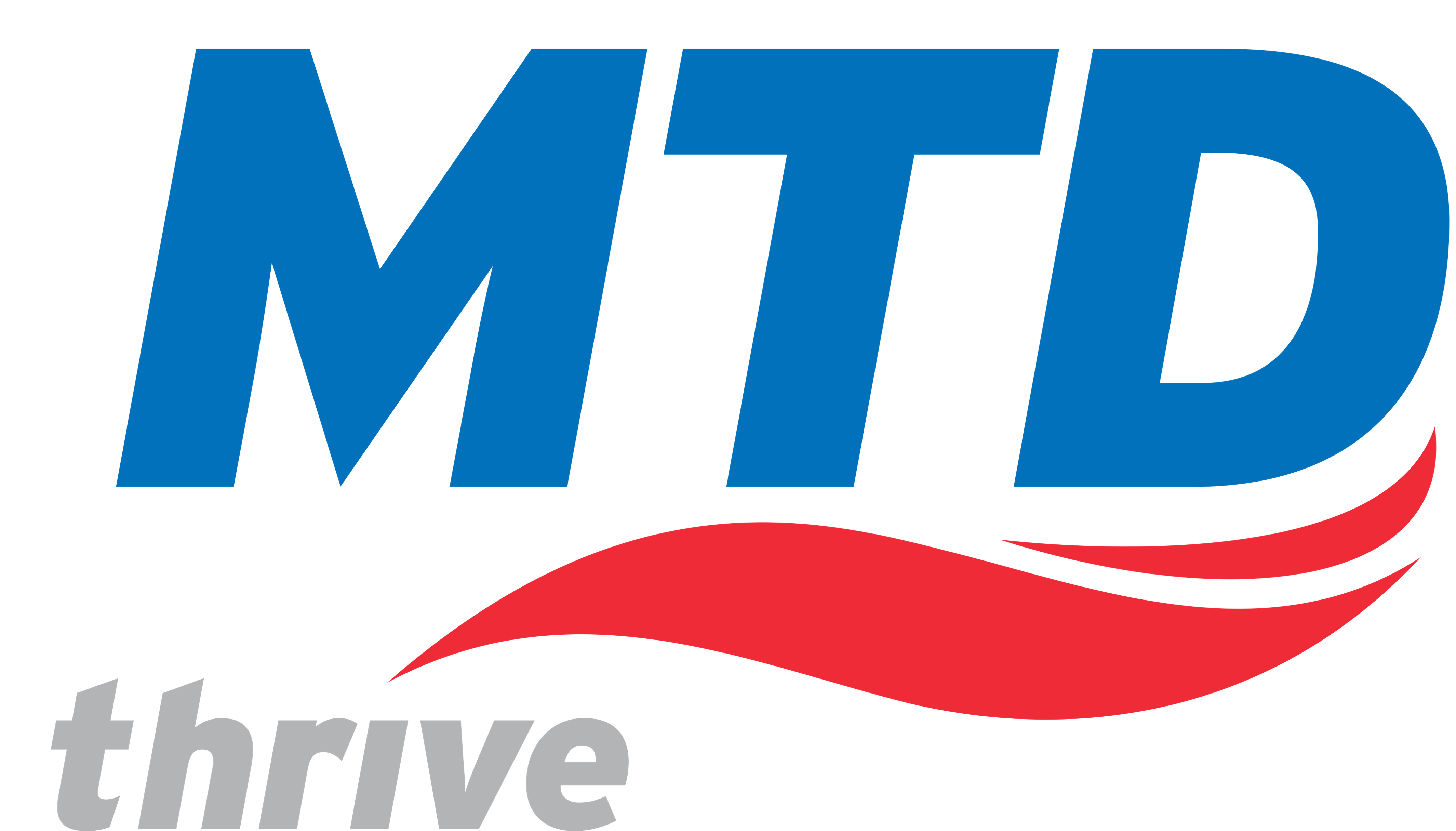 As the Champaign-Urbana Mass Transit District (MTD) gears up for our 2020-2021 service year, we will celebrate our "nifty fifty" birthday with a fresh, new look. MTD was born by referendum in the Fall of 1970 and the first MTD buses hit the streets the following year in 1971. To commemorate half a century of service, we gave our brand a minor facelift, complete with a new logo and tagline, an update to our website, a new design for our eleven incoming 2020 buses, as well as refreshed uniforms, bus stop signs, and shelter boards. Other updates will be felt throughout the District as well, many of these changes - for instance, signage at more than 2,000 MTD bus stops - will be introduced over time on our usual replacement schedule.
Our 50th-anniversary redesign is subtle, and MTD has not veered far from our roots. We have streamlined the original swoosh of our former logo to be crisper and cleaner for increased legibility. We have also updated the shades of blue and red to display a bit more warmth with a modern feel. In addition, the color palette will feature two versions of each color - a dark and light tone - in order to more effectively display text with a higher contrast that is accessible and friendly for our low-vision passengers.
The most notable change is our tagline: Thrive. Replacing "gotta get there" and "get to what matters", this new phrase strongly reflects our Core Values.  We strive to do more than simply get people to where they want or need to go; we build positive relationships and provide high-quality public service to help our customers and community thrive. Getting people to work, stores, appointments, and other important destinations helps our economy thrive; taking essential workers to their jobs helps our health and safety thrive; providing someone with a disability increased access to the things they need helps their mobility thrive. We do more than move people - we are a critical infrastructure that supports our community to help it thrive.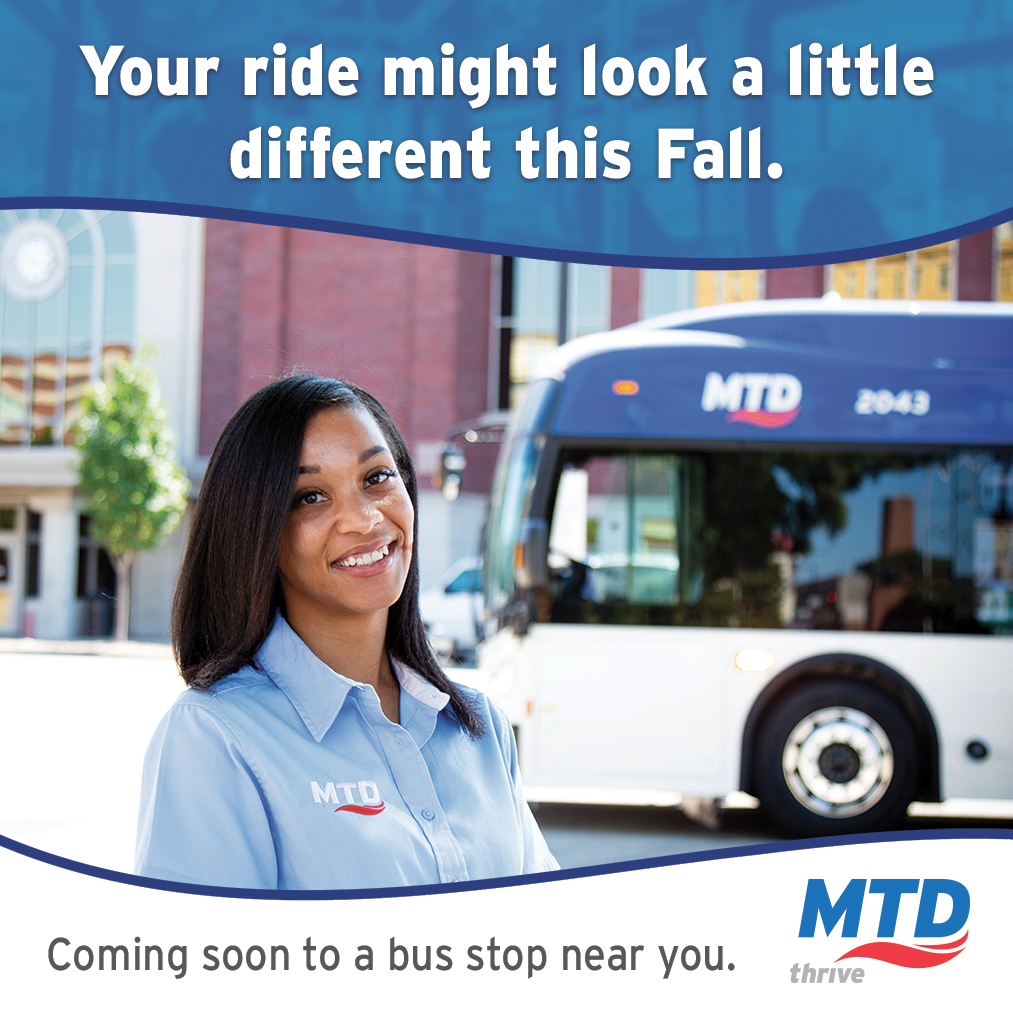 You may notice that our new 2020 buses are currently on the street for testing and training, but have no fear, they will make their debut to serve passengers soon. The new buses offer a simplified appearance with white paint and minimal accents along the top and bottom corners. Not only does this minimal design look sharp, but it also helps our Maintenance Team save time in the Body Shop when it comes to touch-ups and repairs. (If you see a new MTD bus on the street, be sure to snap a photo and share it on our social media, @rideMTD!)
We believe the rebrand changes are subtle and seamless and you will continue to recognize the MTD you've known and loved for 50 years. Look for our roll out at the start of our new Fall service year on Sunday, August 16. You can expect to see the new logo, tag, and color scheme slowly introduced as our existing assets are repaired or replaced.
"To paraphrase the corporate tagline from the 90s – MTD has a new look, but the same great service. Our dedicated group of employees are still committed to top-tier customer service and unparalleled safety. Fifty years is a major milestone, and the 346,490,292 rides we've given to date tell a truly golden tale," said Karl Gnadt, Managing Director.
MTD is honored to serve this community through decades of incredible growth and exciting advancements, as well as in times of great struggle and uncertainty. No matter the circumstances, MTD is called to serve our community and we take that calling to heart. We may have a new look, but MTD's real brand identity remains our commitment to service. Thank you for allowing us to be such an integral part of C-U's local tapestry; we are proud to continue offering exceptional transportation services to help you thrive for another 50 years.