Illinois Terminal Expansion
A planned expansion of MTD's Illinois Terminal has now merged with Developer Hans Grotelueschen's vision for a major downtown Champaign project. As part of a new project in the area surrounding and adjacent to Illinois Terminal, Grotelueschen and MTD hope to partner with the City of Champaign and University of Illinois Division of Intercollegiate Athletics (DIA) to include parking for the area and a hockey arena/athletics event center for approximately 5,000 spectators. DIA announced in 2018 that a feasibility study conducted about the possibility of adding Division I ice hockey at Illinois came back favorably and that the Illinois Terminal Expansion site will be the location chosen by DIA if hockey is added as a sport.

The project will be immediately accessible by bus, train, bicyclists, and pedestrians, and will cement the strong and growing connection between Downtown, Midtown, and Illinois' Campustown. With the site's expanded footprint (approximately 8-10 acres), and given DIA's expressed interest in exploring Division I hockey, the opportunity to include an athletics event center in the plan makes the development project that much more attractive and impactful for the Champaign-Urbana community.

"Expanding Illinois Terminal has been something that we've been working on for a few years now," said MTD Managing Director Karl Gnadt, "and combining our project with Grotelueschen's makes so much sense. It brings a significant amount of dynamic activity right to the heart of our transit services, making for extremely efficient operations. Effective partnerships like this maximize resources and benefits for Champaign, Urbana, and the University."

Congressman Rodney Davis and Illinois Governor Bruce Rauner have publicly expressed support for the project and pledged to advocate for federal funding for the public transit portion of the expansion. Both have lauded the project for being over 80% privately funded, with a well-rounded partnership of local participants, and a wide range of support.

As of July 2018, DIA at Illinois continues to assess whether Division I hockey will be added at Illinois. Intergovernmental Agreements are being negotiated between Hans Grotelueschen, the City of Champaign, and MTD, and preliminary traffic and other studies are being done for the area that will aid in determining the ultimate size and layout of the project.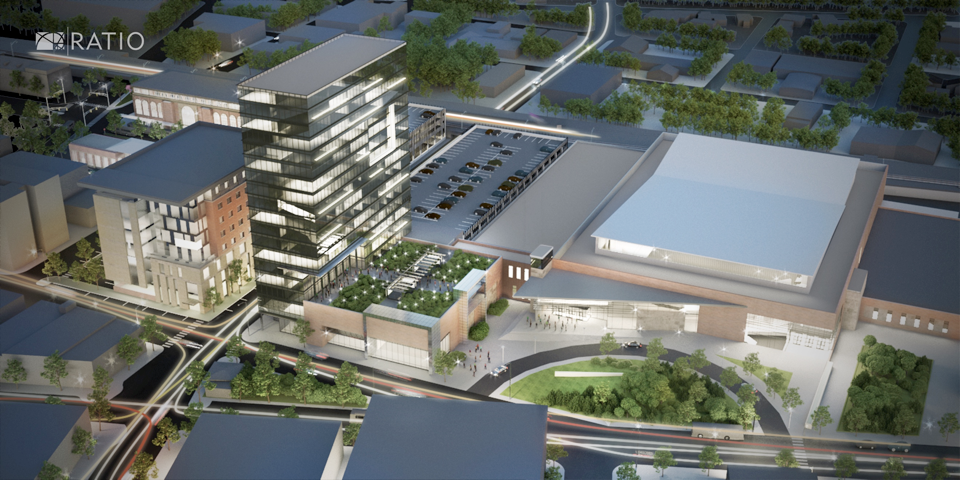 The development as proposed includes:
An expansion of Illinois Terminal.
175-200 hotel rooms.
200 apartment beds.
100,000 square feet of office space.
Retail space on the first floor.
More parking.
A 5,000 seat arena.
Three sheets of ice.
Four full-size basketball courts.
15 volleyball courts.
24 wrestling mats.
A public ice skating rink.